First things first – if you don't know that Windows Phone Week is, you should read this article first. Long story short – Matteo Pagani, Joost van Schaik and Rodolpho Marques Do Carmo, three Windows Phone MVPs, planned to host Windows Phone events in their respective countries (Italy, Netherlands and Brazil) in the same week. Other Windows Phone MVPs joined, and there was 13 locations around the globe in no time! (And that was not the final number!)
Around that time, Matteo shared the news in Nokia Developer Champion group on Facebook, and I liked the idea so much that I wanted to bring the event to Zagreb (Croatia). It seemed to me like a long shot, but I got a green light from Matteo and Microsoft in just a few hours! I checked with local DPE team when a conference room was available and we had a date – October 4th. I was quite worried at the time, since that was Friday before a long weekend in Croatia, and a working day. And there was only 16 days left to organize the whole thing.
Thanks to a great people around me and support from Milan, Redmond and San Francisco, it was much easier than expected. In just a day I had a venue, registration site, catering and five excited speakers, eager to participate. As a cherry on the top, Andrej Radinger, our local Windows Phone MVP, joined and helped me with the next steps.
Content
The program officially started at noon with a few words from organizers and some housekeeping notes. Andrej Radinger was the first in line – he had a talk on Windows Phone App Studio, great web-based tool for making Windows Phone apps without coding.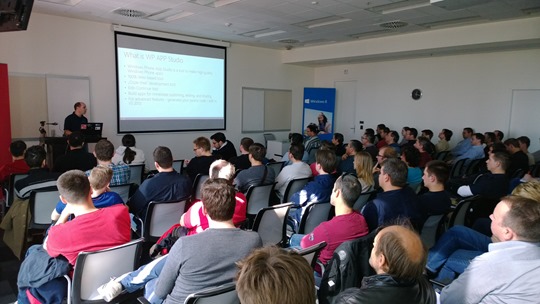 After that, we had a session on designing Windows Phone applications by Matej Huljev, a professional designer who is quite experienced and good in Microsoft design language (previously known as "metro"). Developers often have problems with the design part of app development, so he shared some very usable tips & tricks about grids, typography and whitespace.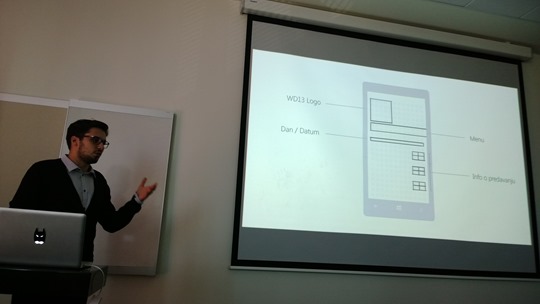 After the lunch, Toni Petrina (C# MVP) talked about game development for Windows Phone, going through many technologies and tools available for the platform. As you may know, games are statistically the most popular apps on any platform, so it was interesting to see how we can make our own game for Windows Phone.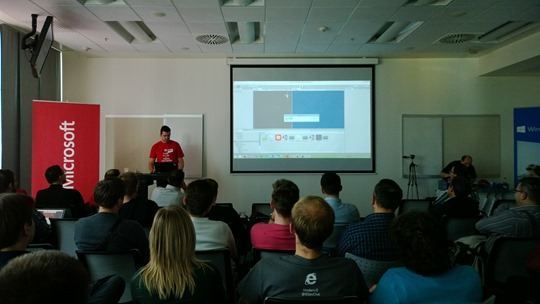 There was also a tips&tricks session by my colleague Igor Ralić and me. We've shared ideas and howtos about icons, in-app purchases, Windows Phone Power Tools, advertising, file & protocol associations and open source libraries for Windows Phone.
At the end, we had a guest from Hungary. András Velvárt (Kinect MVP & NDC) talked about his new SongArc app and shared his experience with AppCampus funding, app promotion and beta testing. (BTW, AppCampus is an excellent award program for innovative Windows Phone apps, powered by Nokia and Microsoft, make sure you check it out.)
We planned to be done by 5pm, but we have stayed a bit longer, and afterwards all the speakers went for a dinner. (I'll skip the awesome food photos here for your own sake.)
sold out in a day
Prizes are a nice way to motivate people to come to the events and to stay until the end. But, this time, all the seats were "sold" out before we announced what kind of prizes we have! Actually, we had the event sold out before all community members in Croatia (around 2,500 people!) got the invitation in their inboxes. We have opened the registration for 100 people, and all seats were taken in 48 hours. (Actually, we didn't have that many seats in the room, we have overbooked a bit.) At the end, more than 80 people showed up, that's more than average for a free event (the average is 66% percent).
We had a good coverage in local media (all in Croatian): Bug, Gadgeterija and Netokracija (in alphabetical order). Thank you, guys, for your support!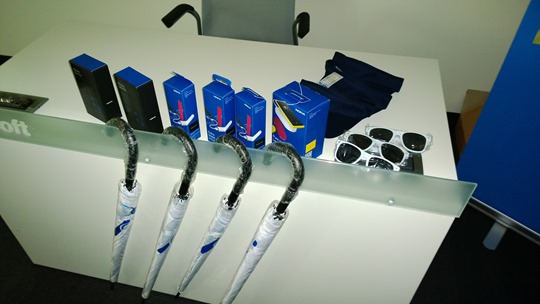 The prizes were awesome. Lucky participants took home one Nokia Lumia 920 (sponsored by Microsoft Redmond), one Nokia Lumia 820, three portable USB chargers, one wireless charger (all sponsored by Nokia Developer Champion program); a Microsoft mouse and a headset (sponsored by Microsoft Croatia). But that's not all – there were Dev Center tokens for everyone (by Microsoft Redmond), and we have given away a bunch of Nokia eyeglasses, caps, umbrellas, bags… thanks to local Nokia folks (check out the photo). (For those who like numbers – we had a total of 149 prizes!)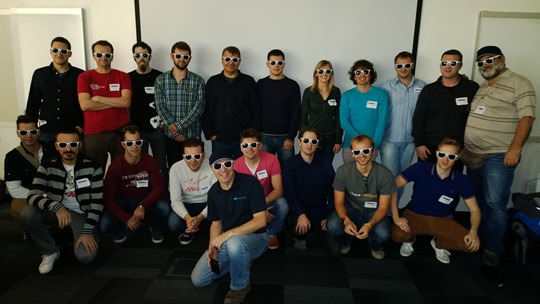 Thank you
And, at the end, we have to thank a bunch of people for making this possible. First, thanks to Matteo, Joost and Rodolpho for starting the whole thing. It is a great initiative and I'm sure you're very proud how things turned out. Thanks to Desiree Lockwood and Sharon Hobbs from Windows Phone Division in Redmond for including us on the list and for fast and constructive support we had received. Thank you Antoine Naaman, a Nokia Developer Champions Program lead, for supporting the event (and basically every initiative I have). Of course, a big thanks to local DPE team (Tomislav Tipurić and Draško Ivanišević) – without a local support this would be much harder (if not impossible) to organize. Thanks to our local Nokians as well: Iva Carić, David Pavlinić and Dea Milovan, for goodies and ongoing support. And last, but not the least – thanks to all the speakers – Andrej, Matej, Toni, Igor and András (and me :-)) – and all the participants for making this event a rememberable one.
What next?
Windows Phone Week is not over – actually, it has become a month long. So you can check this page and find other events until the end of October 2013. There are 21 events all around the world announced at the moment!
If you're working on a Windows Phone app, check this offer out. You can join Nokia Premium Developer program and publish your app for free (and get some other stuff, too). (My offer is valid until October 25th for Europe only. There is a similar offer for the USA as well.)
If you have missed our event, and you live in Croatia, you can join a FutureDEV user group – we talk a lot about Windows Phone so you'll be able to join us next time.
For more info on similar activities around the world, you can follow Windows Phone Dev on Facebook or Twitter.
And of course, I'd be honored if you chose to follow me, too. I share a lot of stuff about Windows Phone, so it may be a good source of information.