[English summary: a book on .NET I've written with a friend 12 years ago is now free for download.]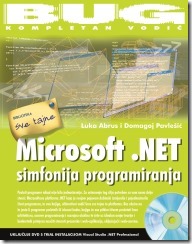 Prije dvanaest godina smo Luka Abrus i ja zajedno napisali knjigu. Zvala se "Microsoft .NET – simfonija programiranja", uključivala je DVD s Visual Studijem 2003 i bez neke lažne skromnosti – fakat je bila zakon. Svih ovih godina nebrojeno puta nam se dogodilo da nas netko u razgovoru podsjeti na tu knjigu i kaže koliko mu je pomogla u programerskim počecima. I to ljudi koji su danas zaista odlični programeri! Baš smo nekako ponosni na to.
Luki to čak i nije bila prva knjiga. Napisao je prije jednu jednako veliku o razvoju web-stranica, te manju o Dreamweaveru. I nemam pojma što mu je trebala i ta treća, jer se sjećam da je meni i ta polovica bila prilično naporna. Ali gušt. Jedna od onih stvari što mi je izuzetno drago da sam napravio u životu, no sumnjam da bih se u to upustio ponovo. (A opet, čujem da je penzija prilično dosadna… :-)). Sve u svemu – ako vam dođe prilika za napisati knjigu, napravite to. Osjećaj je fenomenalan.
Enivej, nismo tu zbog prisjećanja – tu smo zato što je dvanaest godina dovoljno dugo vrijeme za nešto komercijalno (knjiga je inače koštala 349 kn) proglasimo besplatnim te podijelimo šakom i kapom svima zainteresiranima. Naravno, hvala Bugovcima što su nam to omogućili, a posebno Draganu Petricu, uredniku cijele serije koji je iz svog tajnog digitalnog skrovišta izvukao PDF-ove knjige.
Po mojoj odokativnoj procijeni – cca 40% knjige je i danas aktualno, posebno ovi prvi dijelovi o konceptima programiranja, tako da nije u potpunosti samo podsjetnik na povijest, već možda može nekome biti i od koristi.
Napomena – kazalo knjige u pojedinačnim PDF-ovima je greškom iz druge knjige u seriji (o razvoju weba), pa nek vas ne zbuni.