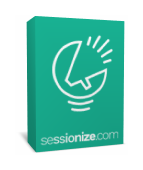 I've been involved with a lot of conferences and events for almost two decades. As a journalist, I've attended a lot of them all around Europe and US. As a speaker, I talk on conferences, events and user groups at least once per month. As a developer, I was an architect and a lead developer of a huge conference system that's being used for the biggest IT conferences in Croatia and Slovenia for the last four years. And, what's the most important – I really love conferences. It's the place when you can meet people, learn stuff and have fun.
So I've noticed a black spot: Call for Papers. Ok, there are conferences that don't do that, they just directly invite speakers they want to have. But there are also a lot of conferences (mostly technical, but not limited to) that find Call for Papers to be a great way to build the content. There are a lot of people that love to travel and speak, so why not to use their knowledge, expertise and topic ideas to boost your conference agenda?
How do they do it? The most common way, and you wouldn't believe this, is Google Forms. Ok, that could work, but all you get from that is a spreadsheet with tens or hundreds of potential speakers. And then you create ten more spreadsheets and send hundreds of e-mails to help you handle everything. That just feels wrong, time-consuming and error-prone.
Sessionize.com to the rescue!
That's why I've created Sessionize.com! Yes, you can have your Call for Papers out in like ten minutes, but you can also categorize and tag submissions, process submitted sessions, evaluate them with your content team, send acceptation and rejection messages, send e-mails to speakers, drag & drop to build event's agenda… and much more. Take a look at the feature list at the homepage.
Or don't. Just try it. Do you want to feel the speaker experience? Submit your test session to our demo event. I dare you! If you don't think too much about the description (you can always write "asdoaisjfoasidj"), it will take like two minutes. You don't even have to create an account – just use the one you already have (Facebook, Google and Microsoft accounts currently supported). Speakers love this simplicity!
Or you can create your own event and try the service from the back side. Just login (with an existing account, of course) and create it. Test everything. Click anywhere. Ask friends to submit sessions. You don't need to pay, sign contracts or even contact us to try the whole system. We're confident that our features and overall user experience will make you want to use this service for your next event.
Official launch, with a discount
Sessionize.com is officially launching today, but that doesn't mean that you'll be using a service that hasn't been tested or used by anyone yet. Last three and half months Sessionize.com was in public beta and, beside being thoroughly tested, was used in production for five conferences. They are all thrilled about our service, especially with the ease of use and the time it saves to organizers. But, what's maybe even more important – speakers are delighted as well: the submission is very easy and the communication from the organizers is fast and efficient.
But, that's not all! Sessionize.com is free for free events. Our moto is "If there is no participation fee, you can use it for free!", and that's our way to support all those community events organized by enthusiasts all over the world. If you do charge a participation fee, then Sessionize.com for one event occurrence will cost only 499 USD (plus taxes, if applicable). And, since we're celebrating our launch today, here is a coupon for 100 USD off valid for a month (until 12 Feb 2017) – BLOGLAUNCH.
If you have any questions, feel free to contact support at support@sessionize.com or me directly. If your event is far into the future and you don't want to think about its Call for Papers just yet – let us send you a reminder!
A few screenshots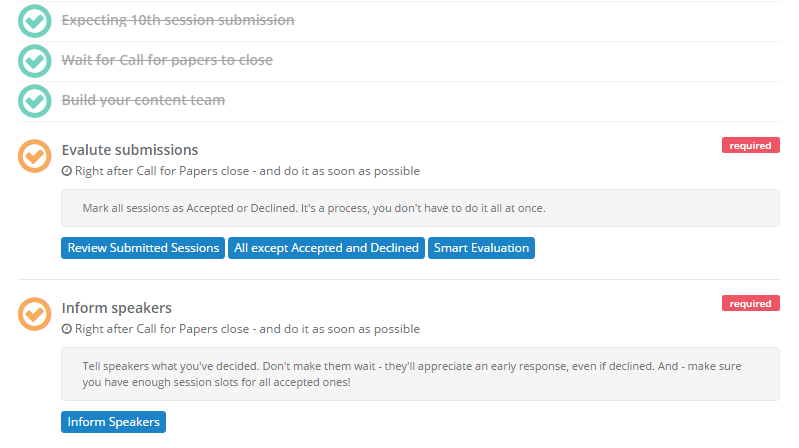 Smart Task List guides you through the whole process, no need to plan or wonder what's next


Call for Papers statistics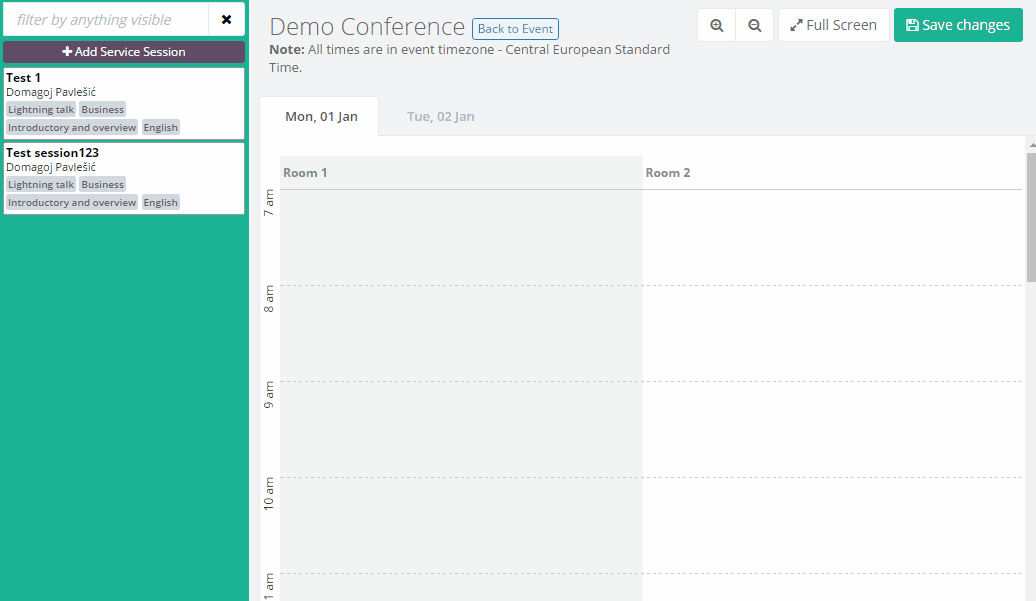 Drag & drop sessions to build a schedule, it cannot be easier than this