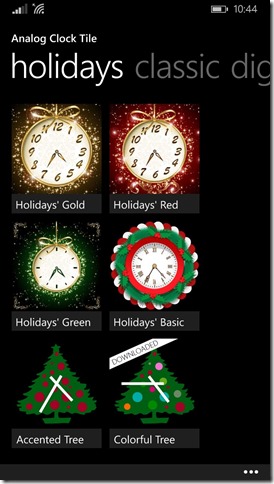 Don't worry, I'm not announcing the end of the life for my most popular app, I'm writing this blog post to tell you about a special Holiday Collection of analog clocks for your Windows Phone home screen. Take a look at the screenshot on the right and choose your favorite.
Maybe most interesting ones are trees. The first one uses your accent color for ornament balls, and the other uses all Windows Phone accent colors – randomly. That means that you'll have a newly decorated Christmas tree every minute!
There are also some bug fixes and UI improvements in the app. The most visible one is a donation page. I don't expect to make a fortune here, but quite a few users asked to donate for the app they love. Thank you in advance!
If you're power user and you want to test new features first, join the beta program on WPbeta.me.
If not, enjoy a public version of Analog Clock Tile app on your Windows Phone 8.1 – and – happy holidays!