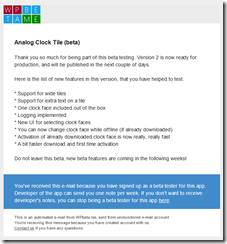 This two months, since WPbeta.me was launched, were great! A lot of developers are using this beta testing service, and – what's more important – they give an awesome feedback. It's really great to work on a product that targets developers – if anybody knows how to give good feedback, it's them. Developers, we rock!
Of course, for a feedback to be useful, you have to act upon it! So I did. Here is a list of new features that will help WPbeta.me developers to make their beta testing better and easier:
Send a note. Once a week you as a developer can send a note to all your beta testers. You can use it to ask testers to test a specific feature, to remind them to try new beta version or just to say thanks at the end.
Submission feedback. When you forward your submission e-mail message to our system, now it will get back to you immediately to confirm the receipt of the message (the links are send out two hours later, so the Store can propagate changes). This seemed useless to me before, but I got a lot of feedback from confused developers.
Auto updating. You don't have to log in to WPbeta.me to get your apps updated – now it's done automatically every 36 hours. So, if you upload a new version to the Store, it will automatically be retrieved in less than 36 hours.
Testing status. Each app can have one of three statuses – testing planned, testing in progress and testing finished. That way testers will know when to expect app updates, and WPbeta.me will bother you much less frequent with new testers notifications if your app is in "testing planned" or "testing finished" state.
Support e-mail and production App ID. You can (optionally) enter support e-mail address for your app (that will be visible), as well as App ID of public version, so beta testers can compare and use the public version as well.
Apps list sorting. The public list of beta apps now can be sorted – you can see a list of freshly updated apps, new apps and the most popular apps in the system.
Hope you like this upgrades and – please – keep your valuable feedback coming.