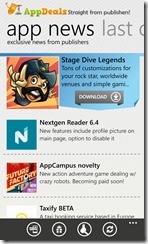 AdDeals is a performance-based ad network on the Windows Phone platform and provides both monetization and free 1:1 cross-promotion services to the developer community. Their AppDeals app is a very popular Windows Phone app that helps developers promote exclusive deals on apps. So it made a lot of sense to have them as a partner of WPbeta.me and offer nice incentives for our developers.
As usual, free coupons are available to all beta apps that have at least ten active beta testers, but this time you can choose between two offers.
1) To be featured on AppDeals as Top News (#1 rank for at least 24 hours)
The only requirement here is to have 4+ stars rating with at least 15 reviews worldwide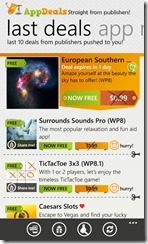 2) If you offer some exclusive/special during at least 4 days on AdDeals (free content in your app for AdDeals users, app for free for a limited time etc.), then you'll receive:
your app will appear on AppDeals Top Deals page, at #2 slot for at least 24 hours
75US$ credit to promote your app as exclusive offer on AdDeals Network, in hundreds of participating Windows Phone apps
For this offer, you'll have to have 4+ stars rating with at least 50 reviews worldwide.
– –
This is the third WPbeta.me partnership of this kind, and with ten active beta testers, you can benefit from all three! This one, AdDuplex and myAppFree. (Some fancy marketing guys would sum the dollar amount of all offers here, but the important thing is – you'll get more downloads.)
If you're a Windows Phone developer, start using WPbeta.me now – beta testing makes your app better, ratings will be higher – and it's really easy! As of today, 9378 beta testers have applied for at least one app on our service!
If you are already using WPbeta.me and have more than ten active beta testers, you can grab your coupons right away, just go to your apps and open the app page!