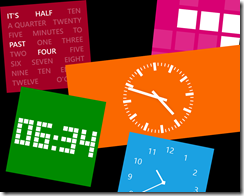 I've just released a major update to my most popular app called Analog Clock Tile. This app does one thing, and it does it great – it shows a clock (analog, digital, binary…) on a tile and updates it every minute. And that actually works. Maybe it doesn't sound like a big deal, but I've seen many apps trying to do the same thing, without lasting success. I've invested a lot of time in optimizing background task that does the job – to be precise, I've developed and tested four different approaches, and implemented the best one.
So, what's new in version number two?
* Support for wide tiles
* Support for extra text on a tile
* One clock face included out of the box
* Added logging
* New UI for selecting clock faces + new clock faces
* You can now change clock face while offline (if already downloaded)
* Activation of already downloaded clock face is now really, really fast
* A bit faster download and first time activation
Download Analog Clock Tile here – it's 100% free!
That's all for now, but more features are on their way. If you want to be the first one to try them, apply for a beta test on this awesome Windows Phone beta testing service.